District council services play a key role in determining the health of their communities, making districts indispensable strategic partners in integrated care systems (ICSs).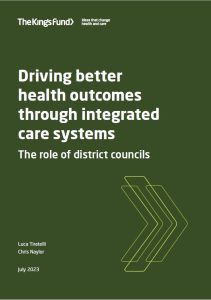 That is the conclusion of a report produced by the King's Fund for the District Councils' Network which is published today.
You can read the full report by clicking here and get a summary of the main points by reading our press release.
Below you can find the foreword to the report, written by DCN's health spokesperson, Cllr Hannah Dalton.
Districts' ICS empowerment can spur the prevention revolution
Cllr Hannah Dalton, leader, Epsom & Ewell Borough Council; health spokesperson, District Councils' Network
The quest to shift the focus of the health and care system from treating illness towards preventing it is far from easy. Making this transition was fiendishly complicated even before Covid. But the post-pandemic spike in demand for NHS services, at a time workforce and finances are stretched more than ever, offers even less room for manoeuvre.
But nevertheless prevention, in the form of a focus on population health, needs to be our shared goal. We want to prevent illness or stop it at the first opportunity rather than allow it to progress, worsening wellbeing and adding to the NHS's workload. And we want to build places which promote happy, healthy lives.
For 40% of the English population, district councils are the lead bodies in bringing this about. We are the most localised principal authorities, have unique proximity to our communities and run the specific services that have the most significant impact on the determinants of health.
Our planners shape the places in which we live, building communities with plenty of green spaces which promote active lifestyles; while our economic development staff promote seek to overcome the joblessness and deprivation which are linked to ill health. Our welfare teams help people avoid poverty, reaching out to support the people our local insight tells us are in danger of falling into crisis, for instance by facing homelessness. Our leisure centres support our populations to be physically active and offer specific services designed to help people manage long-term conditions. District housing teams ensure that people live in safe, pleasant environments conducive to health and environmental health teams are key to ensuring public safety. We specialise in prevention.
The importance of districts' work has been truly apparent in recent years as we worked to limit the impact of Covid-19 and have supported our local communities during the cost-of-living crisis, working with them to alleviate food and fuel poverty.
But the full value of such work has not always been so apparent to all partners within the health system. District councils – despite their immense preventative potential – have often not been front and centre within integrated care systems (ICSs).
It was to investigate the case for districts to play a full role in ICSs that the District Councils' Network commissioned the King's Fund to suggest how our strengths can be fully utilised and how we can work alongside partners in the health and care system to enhance population health.
The report highlights how ICSs can further integrate the work of districts, creating structures for their involvement, integrating workforces, sharing data and giving districts shared accountability in health systems.
Far from being a barrier to their participation, districts' small size should be a strength. With ICS populations averaging over a million and districts averaging little more than 100,000, we have a unique closeness to our communities. Because we are smaller, we are more agile organisations – it's relatively easy to pilot a particular initiative over a district footprint which may have a specific health inequality less apparent over a wider area. We have a convening power can bring together business, voluntary organisations and other service providers such as GPs in a defined geography such as a town, seaside community or rural area.
Districts often work with GPs to provide activity programmes for patients on waiting lists, or with long-term conditions. We often provide mental health support and build networks of service-users with a specific health need, often in partnership with community organisations.
In some parts of the country, districts' full value is being utilised by ICSs. But there is no reason why existing best practice should not be utilised in all places. After all, we all share the same objectives: creating healthier, happier communities; ensuring an efficient and effective care system and – crucially – reducing the pressure on the NHS.
The DCN looks forward to working with all our partners across the health system to bring about the revolution we all seek.